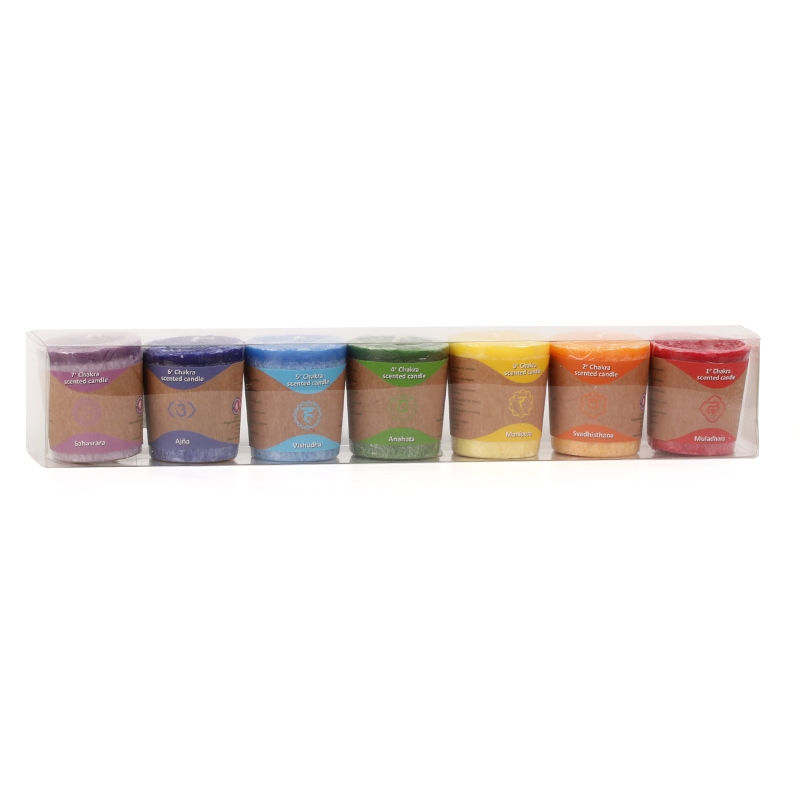 Warning: Last items in stock!
640/1
New product
Availability date:
Chakras votive aromatic candles 7 x in giftbox
More info
Description
Gift set of 7 chakra votive candles. 
Chakra colours and fragrances 
Muladhara - Chakra 1 (red) Fragrance: Cassia, Clove, Nutmeg;
Swadhishthana - Chakra 2 (orange) Fragrance: Cedar, Spruce, Rosemary;
Manipur - Chakra 3 (yellow) Fragrance: Bergamot, Lime, Grapefruit;
Anahata - Chakra 4 (green) Fragrance: Lavender, Orange, Tangerine;
Vishudha - Chakra 5 (blue) Fragrance: Moroccan Rose, Camomile;
Ajna - Chakra 6 (indigo) Fragrance: Lavender, Fir, Camomile;
Sahasrara - Chakra 7 (purple) Fragrance: Patchouli, Labdanum, Frankincense. 
Reviews
Reviews
No customer reviews for the moment.
27 other products in the same category:
Customers who bought this product also bought: